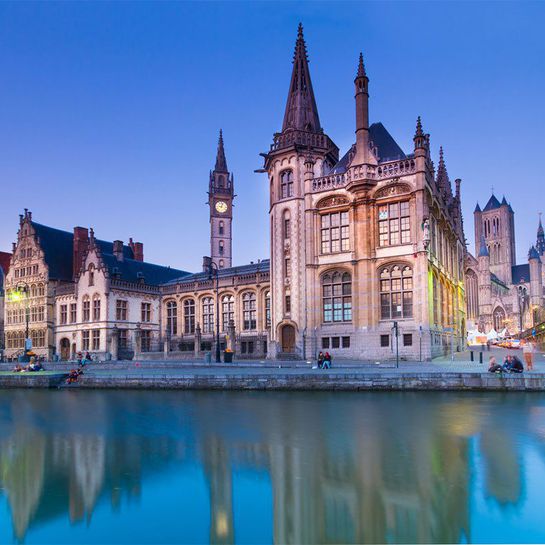 GHENT
Ghent is medieval and hip at the same time! The centuries-old Belfry stands proudly next to the modern town hall. The picturesque area of ' het Patershol' with its narrow streets and cosy restaurants,  lies in the shadow of the imposing Gravensteen.
For foodies Ghent is a huge treat as many hip places are scattered all around town. Art lovers will find their joy in for example the S.M.A.K and in the St Baafs cathedral with the world renowned Lam Gods! A wide variety of festivals, different cultural acts and a vibrant nightlife create a continuous vibe in this student town with its many idyllic sites such as de Gras- & Korenlei along the canal!
For more info click here
ANTWERP
Antwerp is a very particular city. Its inhabitants proudly call it a metropole with the atmosphere of a village: you will find everything and often within walking or cycling distance.
The historic town on the borders of the Schelde river has a lot to show off. There is the beautiful cathedral, the impressive Central station, the moving Museum aan de Stroom (aka MAS), the Rubens House, a beautiful park Middelheim full of statues and even a zoo right in the middle of the city! Nowadays the city is also thé Belgian fashion city with exclusive boutiques, diamandshops, local craftsman,…. On a culinairy level Antwerp also holds up a high level! There is for instance the gastronomic temple The Jane, the cosy lunchspot Sophie's place , Graanmarkt 13 with its rooftop vegetable garden and so much more!
For more info click here
DE WESTHOEK
The region in between the French border, the North Sea and the area of Houtland with historic places as Ypres, Poperinge, Diksmuide & Veurne and idyllic villages is known as de Westhoek. 
An area not only defined by signs of the First World War, but also known for its tasty local flavours and beers! In remembrance of the "Groote Oorlog" 100 years ago, specific touristic cycling and car routes where designed in and around Ieper passing along many historic monuments (Menenpoort,…) and museums (In Flanders Field Museum,…) related to the war period.
For more info click here